For more than 20 years, the OTS executive team has been working side by side with federal customers to design infrastructure, applications, and processes that are efficient, redundant, scalable, and cost-effective. During those 20 years spent supporting our federal customers, we've recognized an emerging void that will become a serious obstacle to their ability to serve and protect the nation. The Federal government's IT sector has an innovation problem. It needs fresh ideas from young engineers and cutting-edge private sector tech firms.
The nature of doing business with the federal government creates a bottleneck for incoming personnel and potential business partners. Talented engineers and private industry both face a high barrier to entry in government contracting. The security clearance process is long and requires justification, creating a "chicken or egg" dilemma (I must have a government job as justification for a clearance, but I need a clearance to get a government job). Demand for Cleared IT talent is ever increasing, while the cleared talent pool has drastically decreased due in part to Covid 19 workplace dynamics. In addition, the current workforce is aging rapidly – less than 6% of the federal workforce is under the Age of 30 **. Private industry will also face a cumbersome process and a steep learning curve on their journey to federal contracting. Along with a lack of young talent and industry know-how, comes a lack of fresh ideas and technical innovation.
OTS is developing a multifaceted approach to bridging the talent gap currently facing the public IT sector. The GovCon Accelerator is our holistic solution for streamlining the current processes and creating new avenues for private industry and young engineers to enter and thrive in the government contracting landscape. We're utilizing our knowledge and experience to introduce private industry to federal contracting. We're preparing a new generation of young skilled talent to tackle the Federal customer's toughest challenges.
The OTS GovCon Student Accelerator is a 1-year mentorship program designed to empower college students with the skills, experience, certifications, and clearances necessary to enter the federal contracting workforce and thrive upon graduation. OTS provides students with real-world problem-solving opportunities, no-cost training from industry leading educators, guided certification programs, and one-on-one mentorship and professional development from Subject Matter Experts with decades of experience in federal contracting.
Student Accelerator Program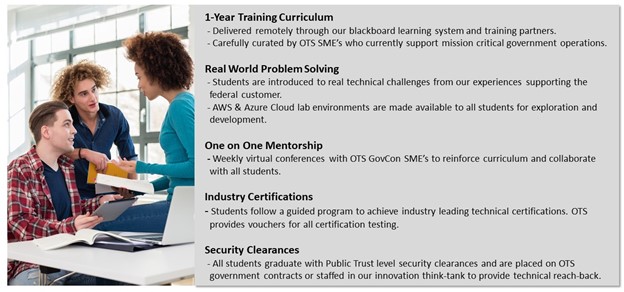 The GovCon Business Accelerator is a collaborative effort to introduce tech start-ups to government contracting and simplify the process government sales process. The program is hosted in our coworking space at Geekdom located in the heart of the Tech District in Downtown San Antonio, Texas. There, we work directly with private sector firms to provide mentorship and guidance on
The government sales cycle.
Government contracting vehicles
Marketing to government customers
Proposal writing strategy
Teaming & partnership
And much more!
These Companies will have the opportunity to gain industry insights from subject matter experts with decades of experience and success in the government contracting landscape.
OTS recently hosted a webinar with our partners at Geekdom and Mike Lejeune on the ins and outs of doing business with federal customers. Our speaker, Michael LeJeune is a bestselling author and master coach with RSM Federal. Michael hosts the wildly popular podcast Game Changers for Government Contractors, manages the Federal Access Coaching and Training platform, and specializes in helping government contractors brand themselves as Subject Matter Experts in their niche. OTS will be hosting additional webinars soon as we continue to develop and expand the GovCon Accelerator program.
If you're passionate about preparing the next generation of IT talent for government contracting opportunities or helping tech-startups learn to do business with the federal government, we'd love to hear from you! Please contact us at info@optechs-inc.com.